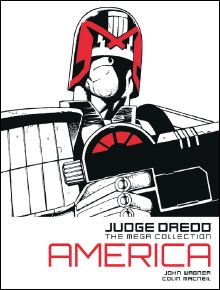 The Judge Dredd: Mega Collection is coming up on a week old. It's a fortnightly series, releasing two hardback collections of classic Judge Dredd stories a month. Each issue is £9.99, which is about 30% less than you'd pay for the vast majority of hardback books and graphic novels. The first issue is £1,99 and collects the America storyline plus the various follow ups.
There are three reasons you should buy it if you're a comic fan. The first is that it's a ridiculously cheap introduction to a ridiculously cheap collection of some of the best British comics ever produced. The second is that at any one of those three price points you're walking away with a bargain, something which is in rare supply in comics a lot of the time.
The third is that this is the point where Dredd got interesting.