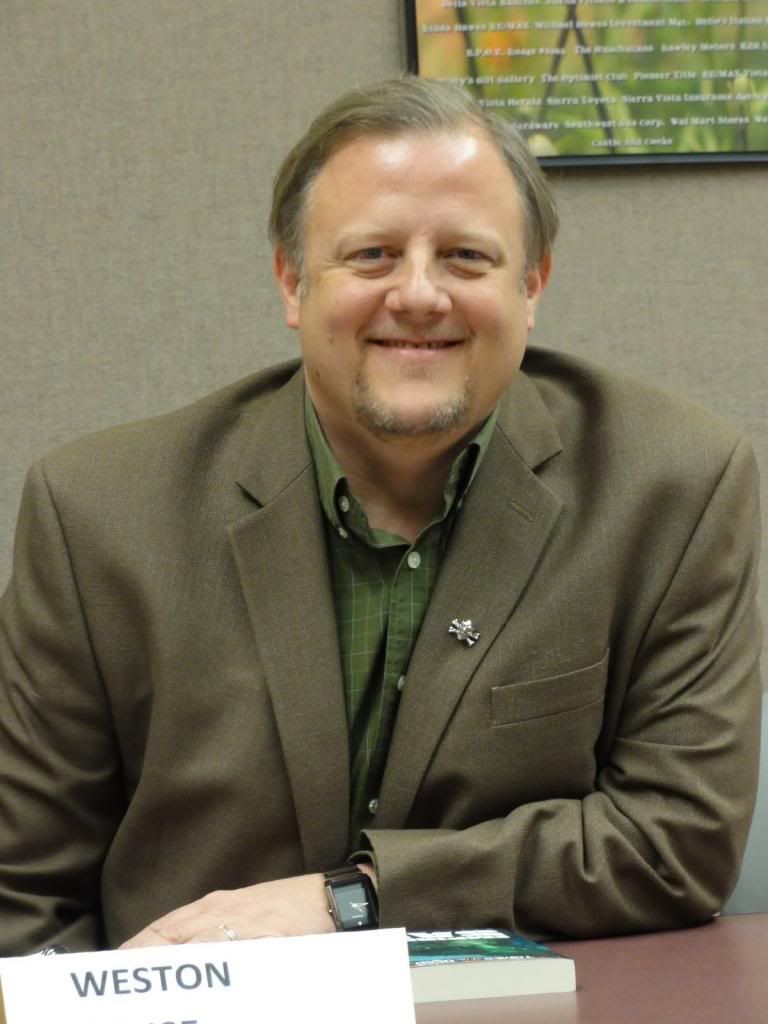 I'm scaling the sides of Mount Review at the moment which is going a hell of a lot better than it looked like it was last week. My plan is to get as clear as I can be of the various reviews I have to do in the next week or so and then get back to a regular blog/review/cookery/review/dissection of modern pop culture/nascent martial arts journalism schedule. Whilst writing another couple of things for other people which I should hopefully get clearance to talk about in the next week.
It's a fun time, right now and the nice thing is it's the sort of fun time you don't quite realize until you write it down.
Anyway, next out of the gate is an interview with Weston Ochse. Weston is a startlingly prolific former Army intelligence officer turned author and he wrote Seal Team 666 which I reviewed here couple of days ago. I interviewed him about the book, the sequel and plans for the future.
What was the inspiration behind the book?
So me, Peter Straub, Jack Ketchum, and a dozen other folks are sitting around at the World Horror Austin Convention dead dog party drinking the hell out of Jack's bottle of Glenlevit, when President Obama appears on the TV and announces the death of Geronimo. We all cheered and it was crazy. Then a week later I get an email from an editor at St. Martin's Press and the book takes form.
The opening has the potential to be pretty controversial, especially in the wake of Zero Dark Thirty. Did that give you pause at all or not?
We talked about it. We always wanted to have the first chapter set the stage that SEAL Team 666 could be real. We also wanted them to remain relevant and grounded in the reality of our world. So by setting it up that Geronimo was taken down by Triple Six, we accomplished this three-fold. The real SEALs who actually did the dirty work still retain their own real honor for actually doing it.
You're very prepared to kill off characters which really adds to the intensity of the final sequence. Is there anyone you regretted killing?
Yes. Since not everyone who is reading this has read SEAL Team 666, I won't mention who, but as a writer, I need to establish to the reader that no one is safe. Too often, writers fall in love with their characters and lose the impact of surprise and uncertainty. Now, when people read Triple Six they won't be sure if anyone will survive the next chapter.
What's the plan for the team? Will there be more books?
I just turned in SEAL Team 666: Age of Blood to the publisher, which follows the team into Mexico. In the book, readers will learn more about the history of the teams, more about the selection process, and more about their backgrounds. Many readers have been screaming for more information about the team members. They've asked and I have answered.
If so, are there plans for us to meet former team members in future books? You clearly seed a lot of history in with the sequences at the Mosh Pit. And, as someone born on the Isle of Man, I got a real kick out of the reference to the operation there to take down a Banshee.
I'm working on a lot of the backstory. As you noticed, I was able to seed a lot of information in the first book. The second book provides as many answers as it does ask more questions. I loved the idea of having the place called The Mosh Pit, too. It's a clubhouse with an incredible history. And for you, I'll come up with a story about the Banshee.
The supernatural elements of the book were a very pleasant surprise, given that they're not the usual suspects. What sort of research did you carry out?
Thank you. I definitely didn't want any of the usual suspects. I was looking for fresh new beasts. And I still am. While the second book has a werewolf or two, it also has some things you've never even heard of. How? You hit it. Research. I try and match monsters with different groups, that way, if you see the beasties in the future, you'll have an indication who the bad guys are.
What's next for you? And for Seal Team 666?
So as of now, there's SEAL Team 666 complete and in stores. A prequel novella has been published by Tor.com and is available at their site for free. It's called Border Dogs and is tells the story of SEAL Team 666 as they encounter narcotrafficers in southeastern Arizona. The second books has been turned in and is in the editing process. After that? I have some plans. I have some great plans. Now I just hope the books sell well enough so that the world can see and read everything I want to do with SEAL Team 666.
Additionally, I have three other projects on the horizon. Two which are finished and one which hasn't even started. The latter is a military sci fi novel Solaris contracted me to write called Grunt Life. It follows the life of a PTSD soldier on the heels of an alien invasion. From Journalstone Books, next year we'll see Halfway House, a traditional, character-driven haunted house novel. From Crossroads press you'll also get an eBook original novel called Babylon Smiles. This is a straight military thriller set in 2003 Iraq, following a military transportation company with too much time on their hands and millions of dollars in unaccounted for US dollars.
Thanks to Weston for taking the time to talk to me.
Weston's homepage is here.
Border Dogs, the Seal Team 666 prequel novella he mentioned, is here.