I have a con schedule this year! There are definitely three on the slate so far this year and I'll be doing press stuff at another couple. These though involve me doing things where I actually stand up and talk about stuff to people.
Friday
Realities of Podcasting
11.45am – 1.00pm, Royal A
The panel will reveal some of the realities, both good and bad, that are faced by today's podcasters. We also look at why podcasts end, the mechanics of podcasting, how do you define a successful podcast and if you can make any money from doing it.
Speakers: Martyn Havell, Debbie Timmins, Sol Craighead Wheeler, Gillian Coyle, Alasdair Stuart
Saturday
Blurred Lines: boycotting & buying in
6.45pm – 8.00pm
What's a fan to do when the people responsible for a comic you love do things you hate? We try to plumb the ethical minefield of purchase-as-support.
Dan Hart, Melissa T, Alasdair Stuart, David Tallerman, Hazel Robinson
Sunday
Ask a Professional: all your questions about the book trade, answered
3.15pm – 4.30pm
Experts from every walk of publishing life, ready and willing to be put to the test. Feeling shy? Tweet questions in advance to @booksnineworlds
Q&A with Alasdair Stuart, Juliet Mushens, Ian Whates, Liz Gorinsky, Jenni Hill
And then a week (eep) later, I'll be at LonCon doing the following: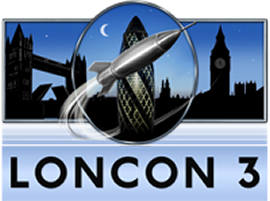 Escape Pod podcast recording
Friday 19:00 – 20:00, Capital Suite 8 (ExCeL)
Come along to be part of the magic while an episode of Escape Pod, the science fiction podcast magazine, is recorded. Alasdair Stuart and Mur Lafferty will present a short story from some of today's best science fiction stories for your listening pleasure.
So You Want To Be a Podcaster
Saturday 16:30 – 18:00, Capital Suite 8+11 (ExCeL)
Everything you need to know about podcasting in one panel! What sort of microphone do you need? Which editing software is best? How should you plan and structure your show? How do you develop an audience? What are the differences between reading and podcasting fiction and non-fiction? Come, listen, learn — and then create.
(Alasdair Stuart , Gabrielle de Cuir , Mur Lafferty , Emma Newman, Miquel Codony Bodas)
 And later in the year I'll be co-running the redcoats for Fantasycon with Marguerite.
And will be at Thought Bubble doing press stuff.
And it turns out there's a Nottingham Comic Con. On my birthday.
All go isn't it?