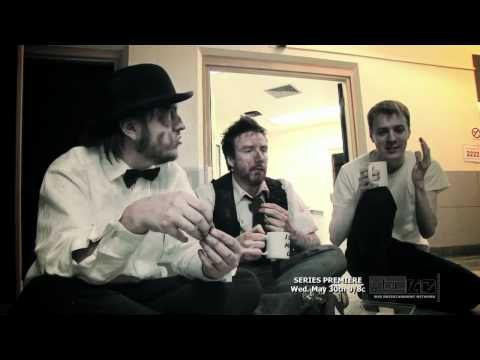 You can cover York's city centre, side to side, in two hours. Maybe three, if you stop and have some coffee at either one of the Perky Peacock's locations and, believe me, you should, Nicky makes the best coffee even if she does believe syrups are wrong. But after three hours you're, conservatively, most of the way out the other side of the city, probably heading towards the Designer Outlet or the Clifton Moor retail park and wondering where the city went. York is small, a city in many ways only because of the colossal, beautiful Minster that sits at its centre.
Which is why, I suspect, so many people are surprised by York's film making community. The city is crammed with film makers and production companies and if you spend any time there (And you should, like I say, the coffee's brilliant) you'll see why. The city is crammed full of history and history's old clothes; the Minster, Museum Gardens, Treasurer's House where you can still see musket ball impacts from the Civil War, the faded Lovecraftian grandeur of the De Grey rooms, the world's most Gotham-esque Barclays branch in the centre of town, the quiet, surreal oasis of Holy Trinity Goodramgate and its graveyard, a favoured lunch spot on the five days it doesn't rain a year. The city is grand and ramshackle and completely beautiful. In York, if you want to location scout, you throw a rock. If you want to be lazy, you just open your door.
None of York's film makers are lazy, least of all Jamie Mckeller. Jamie runs Redshirt films, which produces music videos, the upcoming series Nights at the Round Table, the movies Hooped and Pitch Dark  and I am Tim. I am Tim is the story of Tim Helsing, monster hunter and the film crew following him in order to make the most epic documentary ever. I spoke to Jamie about Redshirt, being Tim, plans for the future and making movies in York. But first, here's I Am Tim episode 1:
[youtube http://www.youtube.com/watch?v=2p4ThgBshjo?list=PL0F2FAF41C40D03EE]
How did you get started in film making?
I worked in theatre for years, trying my hand at everything I could get involved in. I acted, directed, wrote for stage, built sets, designed sound… anything that someone was willing to pay me (or more likely not…) to do, to be involved in theatre I would do. I loved the atmosphere. Ultimately my career started to lean more and more towards the writing and directing, and the filmmaking came about as an extension of that. Theatre has limitations that film doesn't, and as writer I just fell in love with having the ability to tell a story so precisely. I still act in theatre, but my directing passion is all about these moving pictures.
What challenges does working in a relatively small city York offer?
So far… none! In fact, working in a city like York has seemingly endless advantages. The city is one massive and beautiful, picturesque location. Probably why so many filmmakers are creating new work here. We never struggle for locations unless it's something really specific, and even then we often manage to find somewhere. The people here are very generous and supportive, and still find us filmmakers amusing enough to help us out. Pretty sure they're going to figure out we're just a noisy hassle soon…
Tell us about Tim, how did the series come about?
It's a mutation of an idea that I had several years ago, long before the web series format was so easy to create for. Actually, before the internet was so zippy. I think we're talking the era of 56k modems here. I wanted to learn how to write and direct film, and I've always approached learning in a very practical. Almost every episode of I Am Tim features a THING I needed to learn how to do. So I'd write it in, figure it out, and then do it.
The cast and crew for the first episode are all people I had the slightest connection to over the internet. I made a Facebook page announcing the idea, shouting "HELP ME MAKE THIS." Luckily, a lot of people answered. A lot of bloody lovely and talented people. We met up, drank a lot of tea and then just dove in. I found myself stood on a cycle path outside of York with a stupid amount of production documents and a look of terror in my eyes. Three years later, I still learn something new with every shoot but I think I've mastered the art of hiding the TERROR now.
What's been your favorite episode so far?
Out of the ones that are online, episode 15. It's so messy. We scored one day in the hospital The Royal filmed in, just before it was turned into a car park. We were in there for 14 hours, rolling about in smashed tiles and dust, broken glass and spiders. There was blood EVERYWHERE. I think we went through eight litres in day. By the end I was so exhausted I drove halfway to Wales before I realised I was heading the wrong way. The next day we filmed a few picks ups in York, after which I spent £40 in Frankie and Bennies. You haven't lived until you've put a slice of pizza INTO a burger.
Overall, it's an episode from series 2 which is a parody of American Werewolf in London. Tim has to battle a herd of were sheep… the performances are spot on, the tone is wonderful. I grin like an idiot every time I watch it.
How has the show changed from initial idea to production?
As the writer I had ideas for the characters in my head. When the actors got their hands on them, I was stunned at how differently they interpreted them. That moulded the entire production from that point onwards. Anna and Tim were very much in love, Timmons wasn't the terrible, awful human being he is now, Poncho was very English and stiff upper lip. I'm fascinated to see what actors do with the words on the page, and the decisions they made in that first episode steered the show onto the path it's now on. Originally King was set up to be the foil to Tim's antics, but never the bad guy. When an actor dropped out of production in the early days of filming, we came up with the idea that Tim would somehow mess up a hunt and cause King to turn to the Dark Side, ultimately leading in his own death. Also, the death of a main character at the end was a LOT darker… but some of the cast talked me out of doing what I originally intended! Good job really… when I read it back I worry about the state of my mental health when I wrote that scene.
There's a lot of film makers in York, do you guys all communicate?
Facebook and Twitter! All hail social networking. There's a page on Facebook where we can all post our ideas and plans, but most of us have our own little creative pots. At RedShirt Films we try to work with as many people as possible. I Am Tim is a great learning tool for me, so if I can leech some delicious knowledge of another filmmaker, I will. Shamelessly. We've had 3 different DOPs on Tim, 2 for Nights At The Round Table. All the crew are found through the Facebook page or Twitter.
Why do you think so many film makers have appeared in the city?
They've always been there. Lurking. Waiting. I think the shift in accessibility to great tech has caused a real surge. You can pick up a DSLR now for under £400 and shoot a film in 1080p. Get some decent lights and lenses, and you can make something that looks beautiful on a cinema screen. The era of the bedroom editor is now upon us! You can shoot, edit, grade and release from your desk if you like.
It helps that York is beautiful. You just walk around a corner and you have an amazing backdrop.
Do you have plans to direct anything after Tim?
We're currently filming season three, as well as a few new episodes for the re-release of season two. Then there's the finale episode for Nights which was due to shoot last year but it snowed for one day… the day we were filming! Hopefully we'll pick that up in spring. As for brand spanking new projects, we have a few things planned. Three new (very small) web series, two short films and a feature are planned for this year. I say "planned", as the feature is only 80% going to happen. We're still discussing the possibility / sensibleness of attempting such a thing. Whereas we're totally ready to face the challenge of making a feature, the question is "do we want to attempt it with zero budget?" But I'm in it for the long haul. I'll direct films until I run out of ideas. Which I hopefully won't ever do.
Does Tim have a definitive end point for you?
SIXSEASONSANDAMOVIE. Well, four seasons really. The ending to season three is a real game changer for the show, and brings an inevitable conclusion which we'll deal with over a fourth, and shorter season. Seasons one runs at around two hours over sixteen episodes. Seasons two and three are about the same, and season four will be around an hour. And yes, we totally know who it ends and who makes it out alive…
Do you have a favorite THING you've had to learn?
Cutting my teeth on Tim was like a baptism by fire. Due to endless restrictions with time, money, locations giving us a couple of hours to shoot what would often need ten, I've learned how to adapt and sacrifice. More often that not I have the idea for the scene in my head, and it looks incredible. Then I realise I have twenty minutes, no pyrotechnics, and the police are coming. Maybe not that intense… but I learned how to move quickly. My actors have a real Marmite relationship with how I direct Tim, but when it's too slick or too prepared, it doesn't look real. I think that's the charm of the series. It has these ridiculous situations, but the actors are reacting with complete honesty and surprise.
Tell me a little about Nights. What's the premise?
Nights is an eight part mini-series which follows the events of a small tabletop gaming group who meet every week. It was wonderful to film as it rarely left my house. Tim can be a punishing affair, with lots of cold nights shooting on the misty streets of York, so to be so close to the kettle was wonderful. It's very, very silly… and I don't think there's anything like there on the web at the moment. I lucked out and scored the most incredibly talented cast and crew. Everything just clicked into place. To tell an epic story and never leave a dining table is tricky, but I think we've pulled it off.
And what about Hoops and Pitched Dark?
Hooped is online to view now, and is also playing at several festivals across the world… which is nuts. It's a fun little romcom that we shot on the nicest day of the year. Anna and James make that film the little gem it is. I honestly don't think any other actor would work in that film. I made it as a statement, to show that I wasn't just about the splattery madness! But then, as if to undo all that good work, we'll be shooting Pitch Dark later this year. It's a spin off from the TimVerse that follows The Grue, our favourite serial killer, as he tries to get ahead at work. It's a very twisted black comedy, and the thing I'm looking forwards to shooting the most.
Do you have any plans to expand Tim past the web series?
There's a feature length version in my head, but I think it's probably best to stay there. Obviously it would be amazing to have BBC3 or Channel 4 spot it and go "YES! THAT'S WHAT WE NEED!" but that sort of thing very rarely happens! Saying that, I'll write the script next year with James and Mark (the co-writers of Tim since series 3) and we'll see what happens. If we tried to make it independently we'd have to embark on a massive fundraising mission. Rubber masks and blood made out of wallpaper paste are fine for the internet, but if we made a feature film I'd want to throw a bit more money at it. I think season one cost £500, excluding travel and accommodation. Season two was a little more than that, and season three has so far cost us around £1000, which we raised with an Indiegogo campaign.
Thanks for talking to me, Jamie. More details of Redshirt Films and the rest of the splendid I Am Tim can be found below:
This is the Redshirt Productions homepage
Remember, if you're a film maker who's got a web series or a short film, regardless of genre, I'd love to hear from you. Get in contact on Twitter @AlasdairStuart or at alasdairstuart@gmail.com