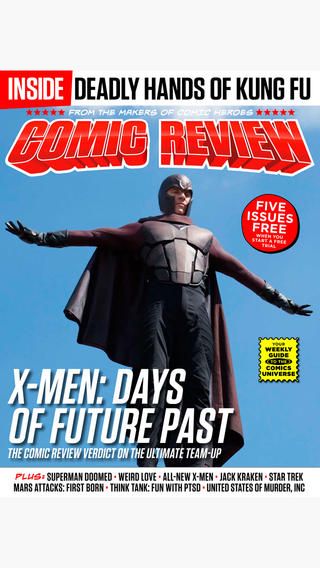 A couple of months ago I was asked to start writing for Comics Review. It's a weekly, digital companion piece to Future's quarterly Comic Heroes magazine and it's a really smart idea. 99p gets you, as long as you're an Apple user (Android and Windows folks I'm really sorry) a dozen or so reviews and multiple features, all relevant to the comics that came out that week. It's also immense fun to write for, especially as the editor is my former SFX Blog editor, Dave Golder. Dave operates the magazine from the principle of 'This is great, now talk about what makes it less great' instead of the 'How dare this item pass across my desk?' snark that drowns so much comics journalism. It's, honestly, my second favorite job right now.
But, as is always the case, there's a problem.
The problem is much, much wider than Comics Review, as this will show you. I've been there myself and have nothing but sympathy for everyone at Future. They do great work and that will be all the more difficult now they're under Redundancy Consultation which, at times, seems to be what Human Resources rebranded torture as. Here's hoping they come out the other side intact, and soon.
But, regarding Comics Review, the truth is there's a better than average chance that it may well go away fairly soon. That's a real shame, not just because I like being paid, but because it's one of the very few areas of comics writing that doesn't feel like every other area of comics journalism. With that in mind, I think it's time to say thanks to my fellow writers at CR and also to put together a list of people writing about comics at the moment who are both different to the others, and worth your time.
Serial interviewer, fellow chronicler of Batman Eternal and all around rock star bunny. Steve's approach is equal parts enthusiasm and clear eyed, laser precise confusion at the bits of the industry that still suck. Follow him and be prepared to learn more about Pixie from The X-Men than you ever thought possible.
Zainab Akhtar has been nominated for an Eisner for her tireless work promoting and talking about indie comics and it's easy to see why. She's got incredible, infectious enthusiasm for the field and a website that's cleanly designed and neatly aggregates all her various work.
First of the Comics Review people on this list and an effortlessly engaging, enthusiastic and smart writer.
A fellow SFX blog alum and thoroughly good egg, Mr Kudos writes about comics, 2000AD, movies and geek culture with a hugely upfront, completely open style.
As comfortable and eloquent writing about MMA or movies as he is about comics culture, Carl's work is wide ranging and always worth your time.
Another blog survivor and owner of my new favorite tumblr, Will's work is smart, funny and eccentric.
Stace is a national treasure. In about 15 years, when mainstream media has caught up with where comics journalism has been for the last few years, there's going to be a Radio 4 documentary about her. Alan Yentob will interview her about her tireless work as a comic journalist, awards judge and advocate and when he does, she'll smile and say something modest and try and brush it off. It will fail, because Stace Whittle is one of the reasons comics culture in this country is as good as it is. And she's totally blushing reading this:)
Molcher is many things. He's the PR guy for 2000AD and Rebellion Publishing, a fantastic journalist, both for comics and pop culture and owner of the single finest beard I've ever seen. He's also, if you read Revolutionary War, sort of a soldier of Hell. Endlessly enthusiastic, eloquent and precise, his work's a pleasure to read.
James may not sleep. As well as journalism he writes books, lots of them, all of them good. His Sherlock Holmes novel, The Stuff of Nightmares, is especially good but if you're a military SF/thriller fan, I'd recommend his Pantheon series. Ancient gods meet high tech soldiering. Hilarity and explosions ensue.
Our fearless Comics Review leader and also one of the best editors I've ever had the good fortune to work with. Comics Review was Dave's idea, and it was, and remains, an honor to work on it. He's going freelance and I can't wait to see what he does, especially as Sole of Sci Fi, his year long trainers and geek based charity fundraiser, is another of my favorite blogs.
There are more, and that's great because we can never have too many good comics critics and journalists, but that's Comics Review (Plus a couple). Go follow them on Twitter, read their stuff, and say hi.