I'm a decent cook, but I love to bake. There's something magical about it, about the combination of ingredients combining to form something that looks absolutely nothing like any of them did before you combined them. It's edible alchemy, magic with a sugar glaze on it. I love to bake because of my mum. A serial baker, the smell of fresh bread, or biscuits, or fruit cake would waft through the house when I was a child on a regular basis. I'm nowhere near her level of skill, but I'm an enthusiastic amateur and I can throw a pretty mean sponge together when called upon to do so.
I'm out of practice though, as evidenced by the hilarious cookies I 'made' in Fremont. The recipe was fine, simple, puffy vanilla cookies and they should have taken about half an hour. In fact they would have done if I'd remembered but the Farenheit/Centigrade difference, somehow, didn't quite make it across the Atlantic with me. The end result was that the cookies 'baked' for six hours and were slightly thicker than paper by the end of it.
So, I need to get back in practice and I'm finally settled so it's time to get back on the horse. The delicious, yeasty horse. I decided to pick a recipe from the Game of Thrones cookbook, given to us by a friend as a going away present. George RR Martin's love of food is legendary enough to be parodied in song form and the cookbook breaks down each recipe from the books to date, broken down into the geographic regions of the series. Even better, authors Chelsea Monroe-Cassel and Sarian Lehrer give you medieval era versions of the recipes as well as modern day ones.
I went for the modern version of the Honey biscuits from The South section because firstly I like cookies and secondly, I thought it best to get modern recipes down before starting to get fancy.
The recipe breaks down into two stages; in the first you mix the following;
2 cups of flour 1 teaspoon baking soda
1 teaspoon baking powder 1 teaspoon salt
1 tablespoon pumpkin pie spice or mixed spice ½ cup granulated sugar
½ cup unsalted butter 2 teaspoons ground ginger
The butter is chilled and cut into cubes and mixed into the dry ingredients with your hands, rubbing it in until the mixture becomes breadcrumbs. That's fine, I've made plenty of crumbles that way, but I did have a problem; spices. Despite Marguerite having a spice box that looks a little like the warehouse at the end of Raiders of the Lost Ark, there was no mixed spice, pumpkin pie spice (Our lack of respect for pumpkin pie as a nation, she feels, is tantamount to a cultural crime by the way) or ground ginger. I briefly contemplated picking a spice and running with it but figured Sage and Honey biscuits probably wouldn't cut the mustard. Or perhaps they would and that would be the problem. Instead, I shaved and grated two teaspoons of ginger and left it at that.
Then comes the first fun part; you nuke the honey. Half a cup of it to be exact, for about a minute so it's good and runny. Then you throw it in the dry stuff and mix it with a wooden spoon until the dough starts to form. You keep stirring until it all coagulates and then the really, really fun stuff happens.
Pour some granulated sugar, I used demarara into a bowl, and not bowel as I just typed. Then roll the dough into two inch wide balls and roll them around in the sugar. Place them on a baking sheet and cook them at about 200 degree centigrade for, 12-15 minutes. These cookies bake fast and that timeframe is one you need to stick to. This is the batch I cooked for 16 minutes.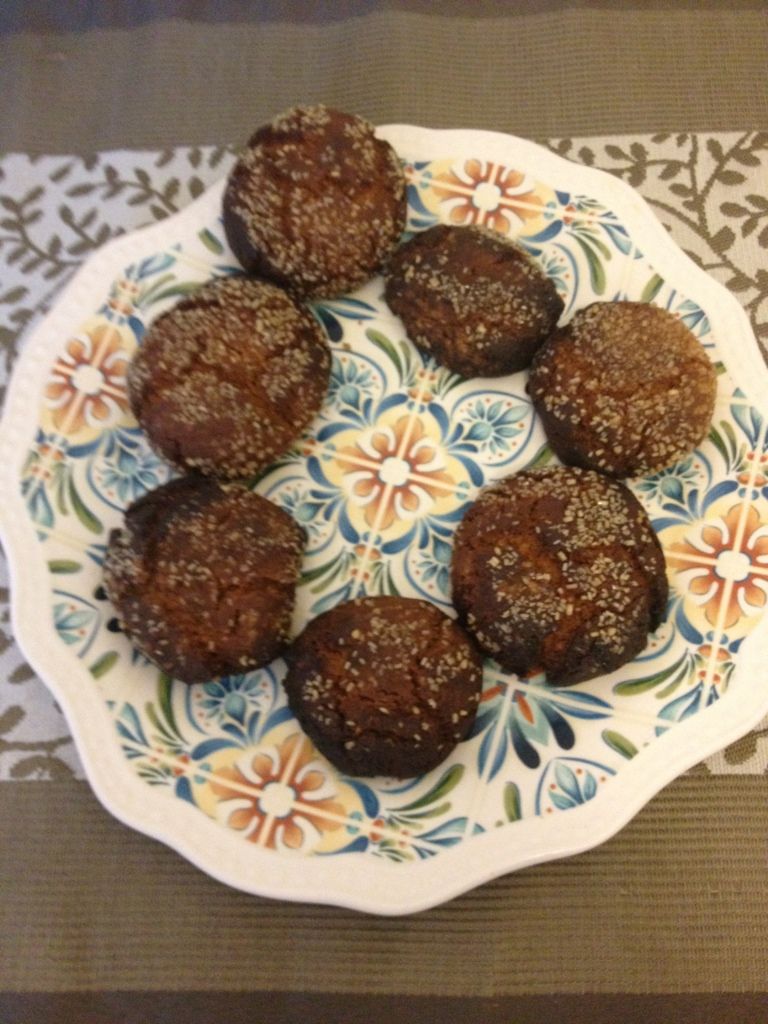 And this is the batch I cooked for 12 minutes.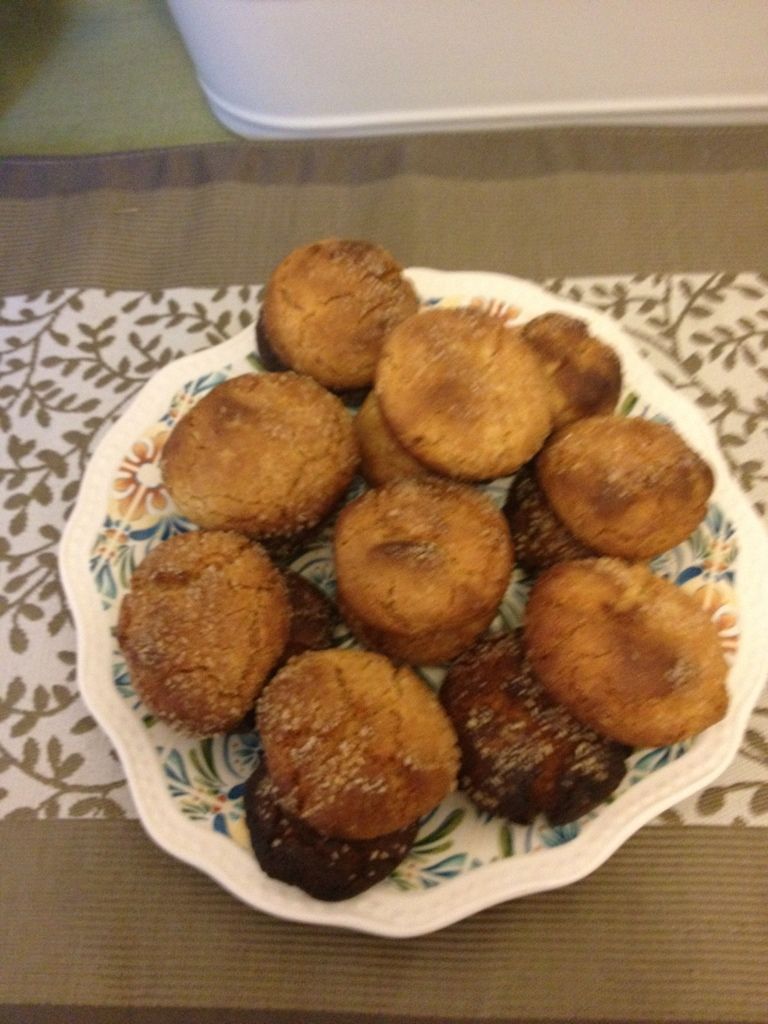 Both sets are good, in fact the straight up ginger in the second set, along with the slight hint of salt, gives them a really good, strong taste. However, I think even at the 12 minute mark the cookies are a little hard. The recipe says to let them cool for 10 minutes after pulling them out of the oven and I suspect that's the golden time for them. So next time, I plan to cook them for 10 minutes and let them cool for 10, and use a melon baller to ensure they're even and I can get a bigger batch. That way they should be much softer by the time they're done.
Overall I'm really happy about how they turned out. The cookies taste great, they go really well with ice cream and they even look a fair bit like the photo in the book, which is a very pleasant surprise. The cookies were easy to make and this is a great cookbook with some really smart, fun recipes in it. So, next week, I think Oatbread needs to happen. After all, baking's magic and like all magic, the secret is practice.