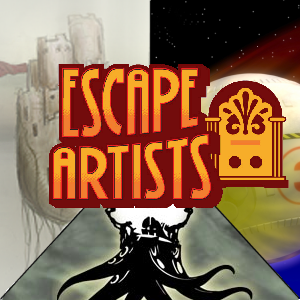 So, this year's metacast just went up. These are shows we put together to update you on how the shows are going, what our plans are, all that stuff.
This one is a little different, because we're in very serious financial trouble. Like, we will cease to be an active and functional market by the end of 2013 levels of serious.
The show's over here, and we sweated blood over this thing so do please click anywhere on this line to go listen to it.
If you can't, or don't have the time to listen to the whole show, here's the text of my section which will give you the gist. It's rough, there are sign off points to things you won't get without listening in there, but it's a good cliff notes version.
—
Good news first. We're putting together some premium content to mark this metacast. It'll be ready in December, so, if you are an existing subscriber on November 30 OR you have donated a one time of $50+ between this show going live and November 30, you will receive the premium flash content in December. See, plenty of time to jump aboard.
Now the bad news. This time is going to be a little different. You'll get that, don't worry, but you should know, upfront, we're in serious financial trouble. So serious we're looking the end of the company in the eyes at the end of 2013 unless you can help. The last thing we wanted to do was to just blindly beg for help without giving you some idea of what, and who, you're going to be helping out though. So, get ready to meet the team. Listen to them, to their love for this work and what they have planned and please stay listening to the end. Because we're not done. Not if you can help us.
First up we have Escape Pod, the Galactica of our ragtag fugitive fleet. Edited by Norm Sherman, with production, submissions and feedback being provided by the inimitable Mat Weller and Nate Lee, it's produced over 400 episodes of science fiction. Here's the guys, walking you through what they do, why they love it and what their plans are. Take it, Norm.
Thanks chaps. Now, let's talk about Pseudopod. I'm actually smiling as I write this. I came to Pseudopod entirely through dint of being cocky. I heard that Mur was leaving, emailed Steve and literally said 'I'd be dead good at this. Pick me. Go on, pick me.' And to my rank amazement I was apparently top of his list for possible replacements. We reconfigured the show, with two-fisted uber genius Ben Philips taking full time duties as editor and me taking full time duties as host and away we went.
Go back and listen to my first show. It's around episode 49 I think. I sound both young and TERRIFIED. It was a deeply weird feeling, sitting down in front of the mike and talking to the entire internet. Or at least a good chunk of it. I got less scared, I got better at it and I started…opening up. A lot of the stories we run affect me, and I found myself talking about how they did this through the lens of personal experience. I'm not joking when I say doing that kept me balanced and healthy during some of the things that have happened in my personal life during my time on the show. I wouldn't be me, without Pseudopod.
I love this job. I can't put it more plainly than that. Nothing I do is more enjoyable, and means more to me, than this. Nothing.  Shawn is one of the finest editors I've ever had the privilege to work with and Graeme, our sound producer does amazing work. I would dearly love to still be doing this job in 2014. We all would. Now, here's Shawn to walk you through Pseudopod.
Now for something completely different. As I said at the top of the show, If you are an existing subscriber on November 30 OR you have donated a one time of $50+ between this show's release date and November 30, you will receive the premium flash content in December. But as a special bonus,  Nathan from Escape Pod is here with a piece of flash fiction. Because even when were in trouble it's still all about the stories.
Our youngest show next, Podcastle. I used to say fantasy wasn't really my bag but that's changed and that's  entirely down to Podcastle. The sheer variety, and quantity, of stories Anna and Dave curate and put out has shown me just what a wonderful, deep genre it is and their love for it shines through in everything they produce. Now, here they are to talk about the show.
Thanks guys. Now, We've talked about how the company's in trouble but now it's time to hear not only just what's going on but what you can do about it. Here's our publisher and accountant, Paul to take things down to brass tacks.
That's our show, folks. And if things don't get better in three months, that really is our show.
You've heard from us all, heard what we've got planned, what this job means to us and how you can help. I'm not going to belabour the point, I'm just going to say this; we love this work, we love what we do. Please help us keep doing it. Without you, we're gone at the end of the year.
Thanks for listening.
—
And from me…to me. Here are the links to the show websites. There are donation buttons on there and if you like the show, and can, please use them. I know some of you have issues with PayPal and I'm sorry, right now that's all we've got and we're working on an alternative. Unfortunately I have no time table for when that will be. When I do, I'll let you know.
Here are those links: