I'm a stuff junkie. I love kit, the stuff you use to get the job done, whatever the job is. As a result I look at posts like this the same way I tend to look at a new cookbook; enthusiastically and making notes as I go on one of the numerous notebooks in the house. So, in case you're a stuff junkie too, here's what I carry every day.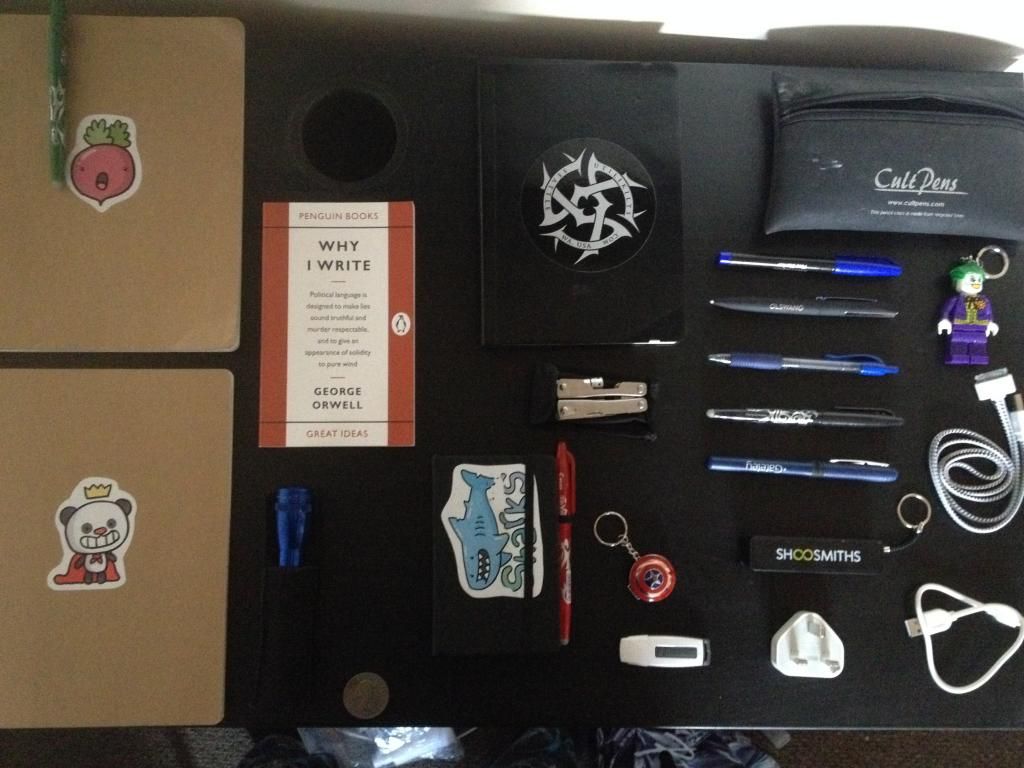 So, working from left to right we have;
-2 Moleskine plain Cahier-These are grid pattern exercise books that I picked up when Blackwells in London was clearing out for the big move. They're also the toughest notebooks I own, and a joy to work with. The top one is currently being used for Fiction School, which I'll be blogging about later in the year. The bottom one is being used to plan out the SPARK RPG setting that's this month's big project. Blog also forthcoming. The stickers, and the shark one a book over, are by my fellow Traveling Man veteran, the fiercely talented and wonderful Jess Bradley.
-George Orwell's Why I Write. This year I'm trying to consciously learn more about what I do and how to do it better. Orwell's a good place to start.
-Blue Maglite. Marguerite's from Earthquake country so she's never more than about ten feet from a flashlight. It's good practice, and I've been carrying one since I moved over to the US and back in 2012.
-Half Crown. Marguerite carries one too. They're from the first time she visited and I got them in St Paul's the day she left the country. We carry them partially as a nod to Elizabeth Wilkinson Stokes, British female boxing pioneer and one of Marguerite's pantheon, and partially because we are in fact adorable.
-Black Leather-looking notebook. No clue where I got that from but it's got a nice bendy spine and it's become my review notes notebook. That's something I've started doing recently; making notes as I read or watch something. I'm trying to combat my tendency to Columbo all over the place and stay on target. It's helping a lot. The sticker on the front is from the Utilikilt company who do amazing, roomy work. Just, take it from me, don't wear it on the front row of the Matterhorn.
-A very cheap multi-tool.
-Small black leather notebook with Sharks! sticker on the front-A handout from a Legal Job Fair, that's my 'Oh shit, I need to write this down book.
-2 USB sticks. One's a 4 gigabyte Data Traveler and the other is Captain America's shield. It holds whatever amount of data is heroically necessary. Or 32 gigs. Which is a lot of heroism.
-A rubber Cult Pens pencil case. I keep looking at stuff like the Maxpedition range but this thing's recycled out of an old tire and is basically indestructible.
-Various pens. There's a Sharpie in there and a rollerball, but the ones I use most are the Pilot Frixions. The black one with the unnecessary tribal dudebro artwork on the body? That's the Frixion. Ignore the ridiculous branding, they're lovely pens and erasable with the right ink, which comes in useful.
-The weird little black rectangle is a travel battery, that, again, is Job Fair swag Marguerite bartered for. It's a useful little device too, doesn't carry a ton of charge but it's small and portable. When I upgrade, it'll be to this, recommended to me by the magnificent Mur Lafferty.
-Charging peh, the Apple user's bane. That's a standard Apple plug at the bottom there with a flat charge cable. Those tend to last a lot longer than the standard ones. Cheaper too. The smaller white cable is to charge the travel battery. There's a 'Who charges the Watchmen's iphones?' joke there but you're all smart, clued in people. I trust you to build it yourself.
–A Joker keyring LED torch. A birthday present from the always magnificent Naz and Ewa, this is a kickass little torch that fits in the pencil case and, most importantly, makes me feel better about never replacing the batteries in the other one.
That's my stuff. Aside from my Batman style utility keyring of course but that's a whole other post…