My friend Lela is here to tell you why you should never trust a Goblin.
—
When I started writing Born Dark, I started with a simple thought… what happened to the kids in portal fantasies when they grew up? And what if the * magical beings * on the other side of the portal weren't so nice?
What came from that "What if" is a story about blood magic, regret and the lengths that people will go to redeem themselves. Every single character in Born Dark has something they want to undo.In the six issues I've written in the series they get their chance.
Issue 0 is set before all the characters get put in each other's path. It focuses mostly on Bulvis– a goblin who made and lost his fortune betting on his ability to manipulate an 11 year old Malcolm. That was twenty years ago and the loss has grown exponentially over the years. But now he has a new target, a young boy named Jake.
Jake is lost. Shelved in a foster home that sees him as a cash crop. But he's made friends with a funny little guy in the mirror. Maybe the mirror guy can help him find his sister?
I'm really excited to get this comic made. I've had a lot of help along the way. Adam P Knave edited the scripts for me which made a huge difference. The art is really top notch. Richard P. Clark is a true professional and this kind of story is really perfect for his style. Having an excellent up and coming letterer like Frank Cvetkovic is the perfect thing to round out the group.
I hope you're as excited to see this story come to life as I am and will get behind it.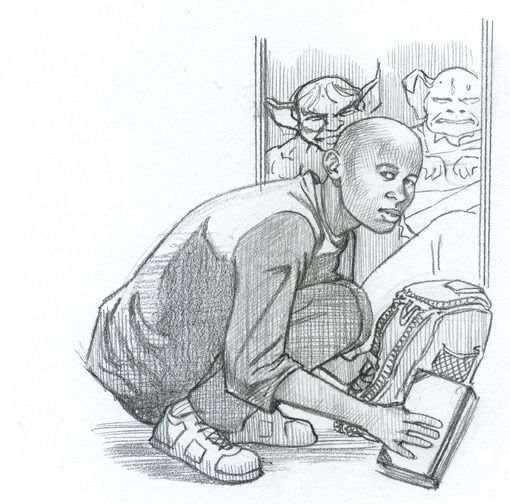 —
Thanks, buddy. She's right too. It's a great story, with a great team behind it. Lela's had scripts in multiple Grayhaven books and has a SUPER SECRET Project on the books shortly. Art is provided by Richard Clark, who's work has appeared everywhere from DC, Marvel, Image and Dark Horse books as well as on HBO, to Playboy and the New York Times. Editing is provided by Adam P Knave, two fisted renaissance man of modern comics who, along with DJ Kirkbride, is responsible for writing the glorious Amelia Cole series. Adam's also the Eisner and Harvey award winning editor of Pop Gun as well as Molly Danger, Artful Daggers and Never-Ending. Lettering is provided by Frank Cvetkovic who, as well as having a very interesting project of his own running right now, has lettered some of the most interesting comic books being made today- Artful Daggers, Molly Danger, Kung Fu Scratch and Nenetle of the Forgotten Spirits. These are all people who work hard, well and have no issues with Kickstarter. They know what they're doing.
Incidentally, if you're noticing familiar names there, then you're quite right. There's a flotilla of absolutely kick ass comic creators coming up and these folks, as well as the wonderful Vera Greentea, are part of the vanguard of it. I mean it when I say this; western comics have not been as varied, or interesting, or brilliant as they right now in over a decade. There's a ridiculous amount of great work out there and I'd love Born Dark to be part of it. So, here's the link. The project is active for 12 more days. Go take a look, and please pledge.