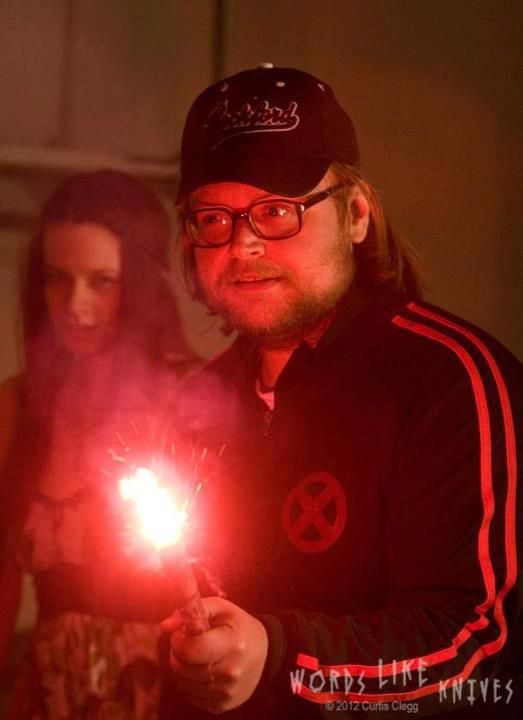 Welcome to this week's Open Mic Monday. Today, the spot belongs to Travis Legge. Travis is an indie filmmaker and RPG designer. He's one of the most dedicated people I know and watching him shepherd Dry Spell through crowd funding and production has been genuinely inspiring. Here he is to talk about the movie.
Alasdair Stuart extended me the generous offer of four-hundred to six-hundred words for this week's installment of Open Mic Mondays, with which to talk about my new film, Dry Spell. I've been working on the film for coming up on two years, and there are so many things I could say about it. So many options.
I could give you the synopsis, which is, "In this hilariously lewd romantic comedy, a newly divorced woman realizes that the only way to regain her love mojo and get over the guilt of breaking up with her ex-husband is by making sure her ex finds a girlfriend. What results is a dating quest fraught with sex, misunderstandings, and the realization that getting divorced can do funny things to a girl," which is the pitch we are using on the various video on demand sites that are hosting the film. It's a pretty accurate blurb.
I could tell you about our amazing cast including Suzi Lorraine (Captured Hearts, Pinup Dolls on Ice), Kyle Hoskins (Raymond Did It), Amanda-Elizabeth Sawyer (Injun), Rachael Robbins (Scavenger Killers, Terror Firmer) and Heather Dorff (Truth or Dare), all of whom are hilarious, talented and totally own the screen every single frame they are on it.
I could give you any number of "x meets y" pitches, such as "It's like a cross between Chasing Amy and Sex Drive," which, while contrived and kind of silly, also paint a fair representation of the film.
There are a ton of different bows I can wrap this up with, but the central message is basically the same. I think Dry Spell is a hilarious good time. Of course, I co-wrote it, directed it, starred in it and edited it, so maybe I'm biased, but I truly love this movie. Thanks to our partners at Filmbuff, we are lucky enough to be able to bring the movie to audiences via iTunes, Amazon, YouTube, Vudu and basically every VOD outlet in every English speaking country. We are very lucky to have the chance to share our little dick-and-fart joke film with a much larger audience than I had ever anticipated. It feels pretty amazing.
You can check out the trailer on YouTube at http://www.youtube.com/watch?v=PxeWaU8Y1yk
We are a tiny company. We funded Dry Spell through crowdfunding, a few small investors and perseverance. If you check out the film and you like it, please spread the word! We are relying on word-of-mouth, reviews and your feedback to get this film out there!
Thanks,
Travis Legge
Follow me on twitter at @TravisLegge
Friend me on Facebook https://www.facebook.com/TravisLegge
Like Dry Spell at https://www.facebook.com/DrySpellMovie
—
Thanks Travis.