Welcome to the Bank Holiday Open Mike Monday. This week, OMM features my friend Helen Armfield. Helen's a journalist,writer, alla round genius and one of my fellow Million Word Challenge participants. She's also the keeper of Doing Forty Things By Forty  which is linked here and has a deep, abiding love for food which is both tasty and a little different. She's great, she does great work and it's a pleasure to have her.
Also, I now desperately need to bake this.
—
There is a long tradition of putting fruit and vegetables into baking. The early days when we just chucked bush foraged berries into pancakes, or made rosehip syrup to ward off colds and soak steamed puddings; or grated parsnips into sweet leavened breads to reduce the need for flour; have turned into complicated constructions containing capsicums, courgettes and chocolate.
Given the futurist bent of this blog, what I *really* wanted to try was using dehydrated broccoli powder and ground almonds instead of flours. I keep coming across these being used in 'low carb' breads, but have yet to try it (or them, they aren't vegan) at home.
I'd also prefer to use a chocolate/nut butter over a straight nut butter as you then can dump the agave, and the cocoa powder as well if you want a really squishy brownie. Unfortunately I need a particular gluten and dairy and soya free one, but my favourite shop was out of stock on this occasion.
But as my brief was specifically, to make brownies that will be both unctuous (and thus a delicious guest gift) and suitably safe for as many to eat as possible; I've opted to forage from cupboards and garden. In a dystopian age we work with what we have.
Courgette and chocolate brownies.
Ingredients
all measurements in US cups. But keep the proportions the same and any teacup sized cup would do.
1/2 cup nut butter, almond or hazelnut
1/4 cup agave nectar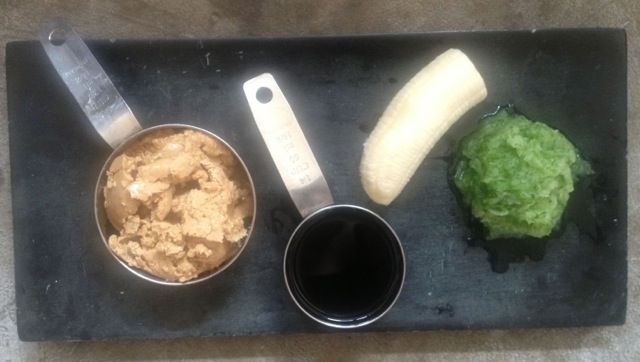 1/4 cup grated cucumber, stand and drain for a little. reserve liquid.
1/4 cup mashed banana
1 teaspoon vanilla
1/2 cup unsweetened cocoa powder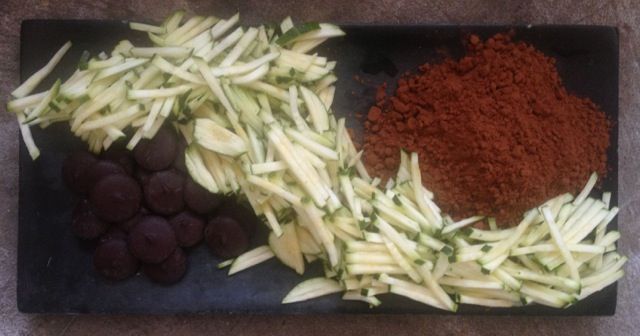 1/2 cup gluten free flour (50/50 mix of doves farm white bread and SR)
1 1/2 cups shredded courgette
1/2 cup dark chocolate chips (vegan if desired)
1/2 to 1 cup nuts or fruit
Instructions
Preheat oven to 180 Celius. Grease and line baking dish.
In a large bowl cream together nut butter, drained cucumber, banana, agave and vanilla until smooth. Add in courgette, cocoa, and flours; mix until well combined. (the courgette will look all lumpy, but keep going it will all work together. Gently fold in the chocolate chips and any nuts or fruit.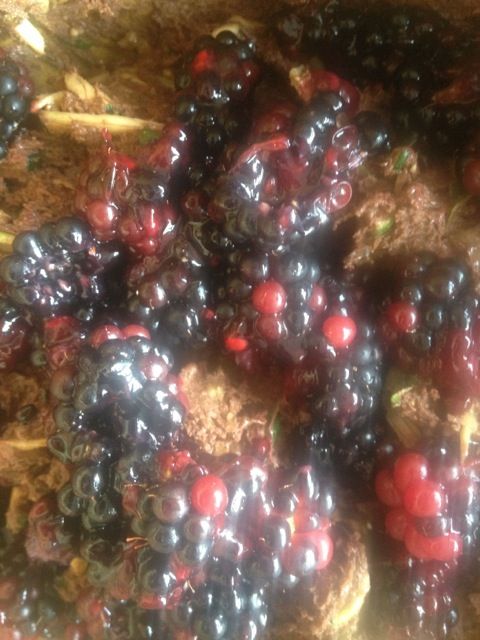 Pour batter into prepared dish and bake for 15 minutes or until a knife inserted into middle comes out almost clean, and is hot to the touch. Leave to stand in the tin for a further 10 minutes, (oven off and door ajar if you can)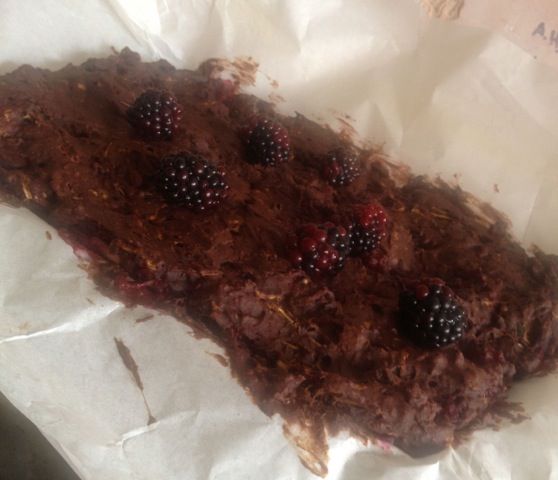 Cool brownies completely on wire rack then cut into squares. Enjoy!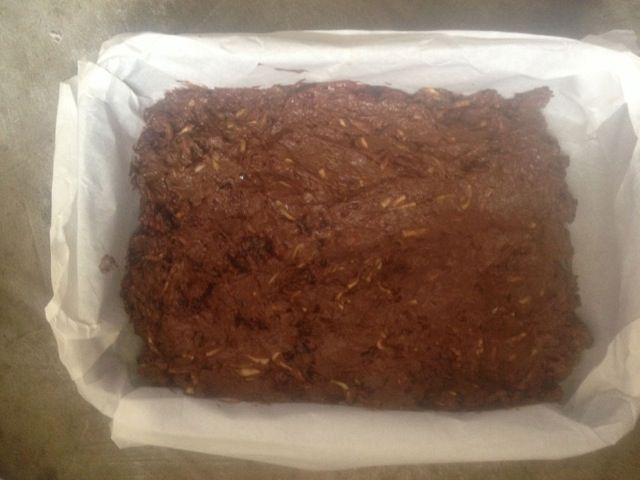 It being almost autumn, I used some gloriously squishy purple juiced blackberries that were very much reduced in a local shop. I could have foraged them, but the bushes here are not quite ready, and I suspect that by the time they are, they will have been stripped by persons unknown.
These turn out slightly toothy, and lend themselves well to being served with a lemon sorbet, or a sweetened frozen coconut cream, such as those made by Bessant&Drury.
—
Thanks Helen, those look amazing. In very connected news, I'm now hungry.
Do you have a blog, a photo, a short film, a piece of audio or some other digital artefact that you'd love to show off here? If so, get in contact at the usual places below. Next week's slot is currently open so if you're interested, get in touch.