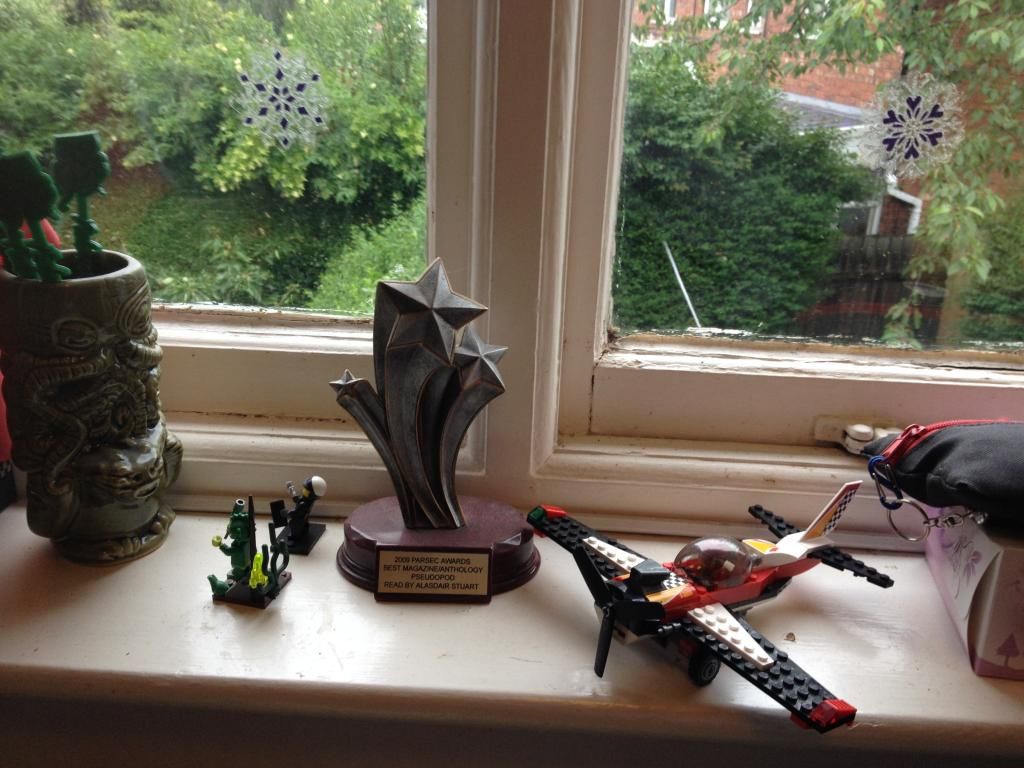 That's my office windowsill. On the left is a magnificent Cthulhu Tiki mug by graphic designer and Tiki genius Jonathan Chaffin. You'll notice the Black Lagoon minifig is worshiping it whilst Bad Cop is trying to work out how to arrest it. On the right is a fantastic Lego prop driven aircraft that, along with a large ball of rubber bands, is my Go To thinking toy.
In the middle is my Parsec award.
The Parsecs are Podcasting's Oscars. This year I'm a member of the Academy. I've been working in podcasting longer than any other field. Seriously, I'm coming up on my 8th year working at Pseudopod and  have plans for the tattoo I'll get to celebrate my 10 year anniversary. It's got that serious. I love the podcasting field because it's everything genre fiction communities pay lipservice to and all too often aren't; inclusive, welcoming, refreshingly free of cliquey bullshit. Podcasting's been a constant in my life in a way very little else has and it's time I gave back.
So, earlier today I got the RSS feeds for initial judging through. I am of course recusing myself from any field that any show I worked on is nominated for and that means I get to play with a lot of non-fiction and fancasts. It also means I get to learn how other people approach podcasting and, through that, evolve my own style. It's a virtuous circle; I help out, and the field helps me out by making me better at it.
Like I say, podcasting's great. Now, I really should go make a start. I've got some listening to do…