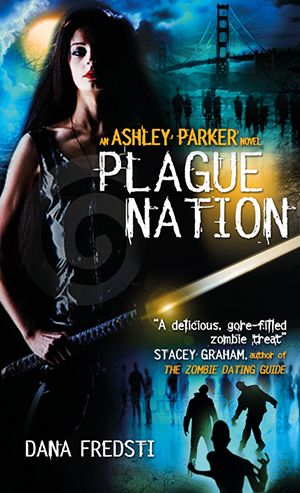 I've asked myself this question several times while working on my Ashley Parker series.  Not so much in the first one, Plague Town, because I kept my destruction limited to a hundred mile radius quarantine zone surrounding the college town of Redwood Grove, which, while modeled after certain Northern California communities I've been to, was still fictional.
Plague Nation, on the other hand, required a broader based swath of destruction.  Since Ashley and her fellow wild cards are still in California, I used third person interludes to show the spread of the plague, for the most part using places I've actually visited.
I love Grand Ledge, Michigan. Cider donuts during the winter there?  The stuff memories are made of.  Calico County in Amarillo, Texas, is one of my favorite restaurants of all time.  And the crab shack in Humboldt?  Oh, how I love thee… and yet I took an unholy pleasure in doing bad things to fictional characters in places that hold lovely memories for me (Salt Lake City, you hosted World Horror Con and were just an obvious target.  I really don't have anything against all of your blond, blue-eyed residents.  Really!).
I also bring zombie devastation (and total traffic gridlock) to my hometown of San Francisco in Plague Nation.  When out and about, I was always considering every street, building, and neighborhood as a possible location in the book. I feel like I should offer apologies to the folks in Presidio Heights about now.  Seriously, folks, I love your neighborhood!  I'm so sorry about the zombie infestation…
Plague World, as the title implies, will spread the devastation even further.  I've done some traveling out of the United States, but not enough to give me first-hand experience, so I reached out to friends and family who provided me with a list of places worldwide they'd like to see overrun by zombies.  Some also provided me with photos and first-person descriptions.  I am going to have some kick-ass interludes in Plague World. 
At any rate, yes, destroying the world one restaurant/town/city/country at a time is … well … lots of fun.  I don't think this makes me a bad person as long as I confine it to the pages of my novels.  But I don't think I'll bring it up in therapy any time soon.  Just in case.
—
This article was posted as part of the Plague Nation blog tour, celebrating the release of Dana Fredsti's new novel. For the opportunity to win a copy of the book, simply tweet:
"I would like a copy of Plague Nation @TitanBooks @danafredsti #plaguenation".
Find out more about the book and the tour at: www.titanbooks.com/plaguenation