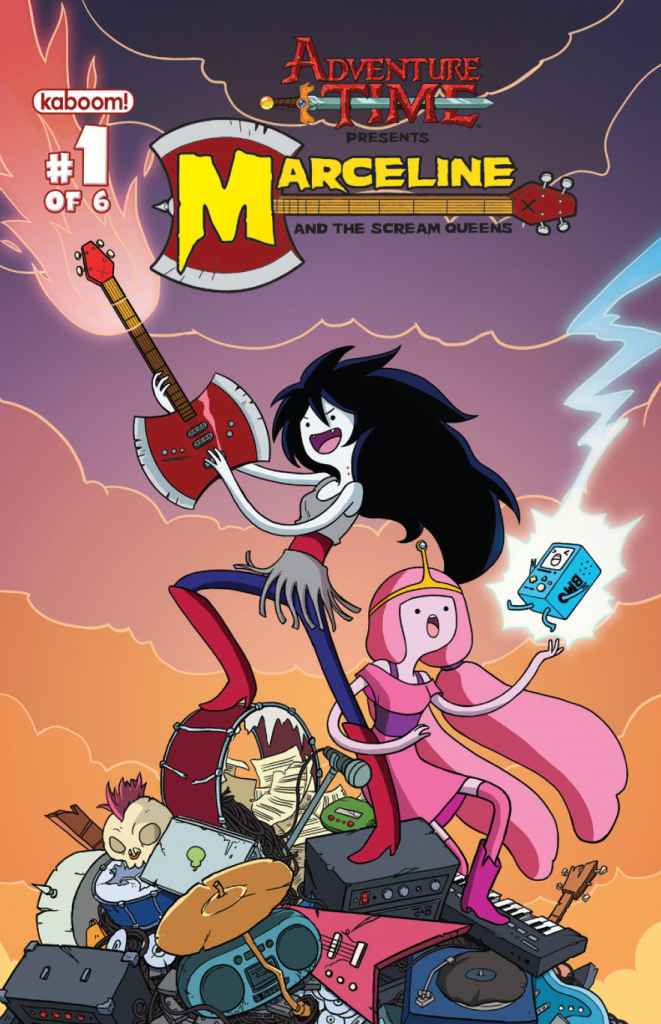 Adventure Time is one of those shows that, so far, has bounced off me. Like Nightvale, I've lost count of the amount of people whose opinion I trust that love it, but, like Nightvale, I've not jumped aboard that train just yet, I saw a couple of episodes, having been awake for 22 hours, on the flight back from the US earlier this yearand liked them but aside from that, nothing. Until now.
Titan sent me three of the Adventure Time comic collections to review and I've been trying to for a while now. The first, focussing on Finn and Jake, I just keep bouncing off. Don't get me wrong, it's really good but the storytelling is so free associating and elastic that I just keep wandering off into how pretty and clever it is and forget about the story itself. Plus, the fact that jokes are encoded through that book in very unusual places makes it both even more impressive and even harder to connect with. I'm a dutiful cat, and I'm trying to review everything I get sent that I like in a timely fashion so this bothered me.
Then, last night, I picked up the Marceline and the Scream Queens collection and finished it just over two hours later.
It's brilliant. Here are the four reasons why:
1)The creative team on this is stunning. Meredith Gran writes and illustrates the lead story with colours by Lisa Moore and letters by Steve Wands. The smaller stories are written by Jen Wang, Faith Erin Hicks, Liz Prince, Yuka Ota and Ananth Pangariya, Kate Leth, Polly Guo and Rich Tommaso. All of whom also illustrate their work with Mirka Andolfo providing colours for the Faith Erin Hicks story. On their own, these are some of the most talented people working in comics today. Together, they're a force to be reckoned with. Also, given the ongoing and entirely justified controversy over how few women work in mainstream comics? This is a predominantly female creator-produced book.
2)The path of the story is actually a very subtle look at friendship, life on the road and creativity, Gran's main story follows Marceline the vampire and her band on tour with Princess Bubblegum going along for the ride. You get all the usual ego clashes, the slightly crazy drummer, the inter-band romance but in amongst all that is some really well observed, affecting stuff about what it's like to be creative. Marceline doesn't want to be notice but does want to be in the spotlight. As the tour goes on and she becomes more and more wrapped up in the bad reviews they're getting, she starts lashing out more and more. The closing scenes, with her becoming the thing that she's been accused of being are some of the smartest, most acutely observed looks at the creative mindset I've seen. It's also a very smart, heartfelt takedown of the culture of snark that chokes fandom today. This isn't the time, or place, to discuss it but Gran makes it clear she's as sick and tired of the race to ironically hatelike something as many other people are.
3)The friendships in the book feel completely real. Marceline and Princess Bubblegum are polar opposites but the fact they can find middle ground shows them both in very new lights, Bubblegum is able to break out from the regal daily grind that's been boring her senseless whilst Marceline is shown exactly what she's capable of and is terrified by the one thing she always wanted; success. The closing scenes, where the Princess uses reverse psychology to calm her down are as I say very clever. They're also really sweet and mean you leave the book smiling.
4)The smaller stories are all gems. 'Resurrection Song' sees a younger Marceline discover her guitar and find out it's possessed. What it's possessed by, her reaction to it and the wonderful final scene hits the near impossible target between moving, sweet and fun It's wonderful and worth picking up the book for that alone. 'Grumpy Butt', the Faith Erin Hicks piece is also lovely, exploring the friendship between Marceline and Bubblegum and revolving around a gloriously bad joke. 'Fruit Salad Days' is equal parts punk rock life and the story of a man for whom everything, including himself, is a lemon. It's deeply weird, very funny and has, again, a killer punchline. Panangariya and Ota's 'The Bootlegger' is the slightest of the stories here but none the less fun for it as another character from the show makes his presence known on the tour. Or at least near it. Or at least scalping off it. Incompetently.
'Treasures Untold' builds on the theme of friendship in the main story with Princess Space Lumps and Slime Princess bonding Space Lumps' love for Marceline's music. It's just two pages but Leth's art is a perfect fit for the world and the story is so cheerful it's a real standout.
'Communication Issues is a Jake and Lady story and may be the single sweetest thing in the book. Polly Guo's artwork especially is a perfect fit for the show and the comedy here is equal parts gentle and knockabout with a very sweet undertone to it. Finally, 'Coffin Break' is a frantic, Josie and the Pussycats-style story of band hijinks, the perils of a theatrical entrance and the even larger perils of trying to mess with a vampire's opening number. The art here is another standout, fluid, clever and fun.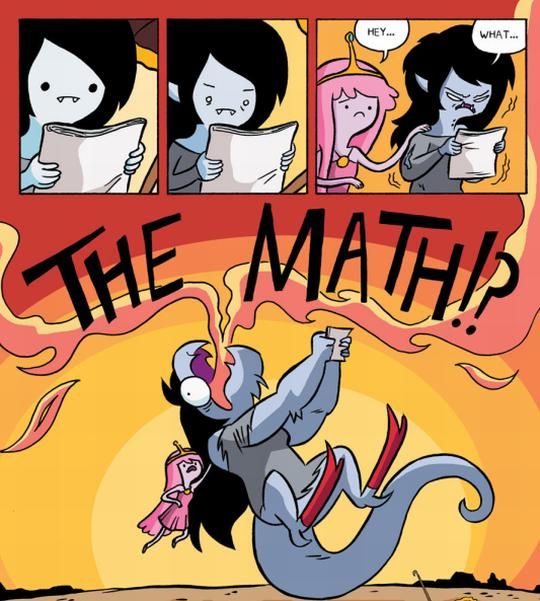 This is subtle, gentle, energetic storytelling that manages to do three impossible things at once. It's a really smart, fun story about friendship, it's a very clever discussion of the perils of creativity and being an artist and it's a showcase for some of the best comic creators working today. Adventure Time may not be to your taste, I'm still trying to work out if it's to mine, but there's one thing I know for sure; the next time the Scream Queens tour? I'll be first in line.
Adventure Time: Marceline and the Scream Queens is available now from Titan, priced £9.99