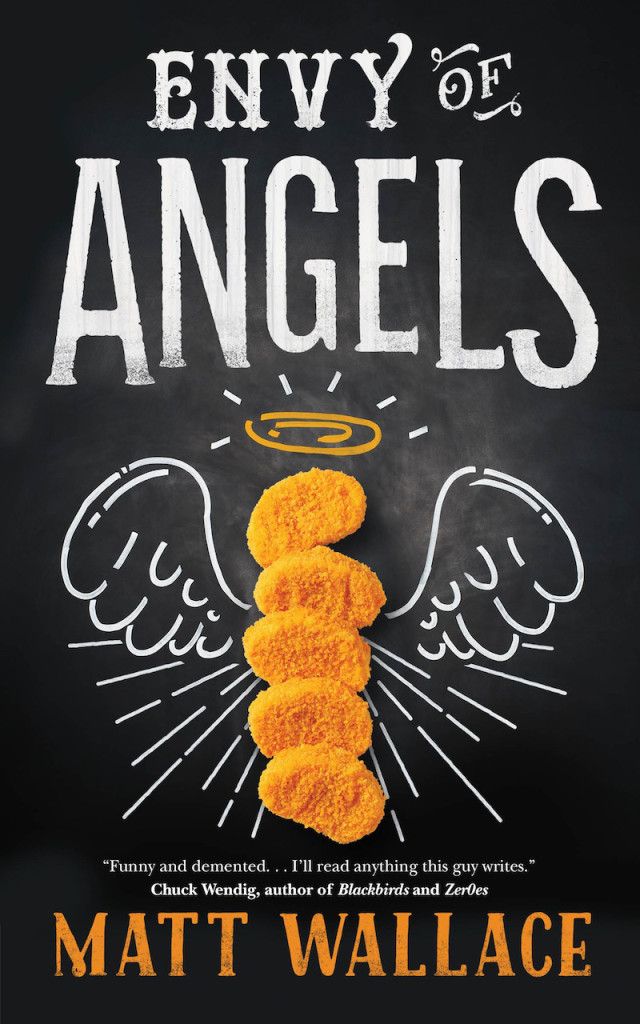 A little while ago, Tor announced their new line of novellas. The idea is, frankly, brilliant; a simultaneous e-book, print on demand and audiobook release of a flotilla of new stories from a refreshingly diverse collection of new faces and veterans. Over the course of the last week, they've started dropping cover reveals for the initial run including Envy of Angels by Matt Wallace.
I had the singular privilege of beta reading that and it's brilliant. Here's the blurb:
In New York, eating out can be hell.
Everyone loves a well-catered event, and the supernatural community is no different, but where do demons go to satisfy their culinary cravings?
When a heavenly delicacy is brought to the kitchen, newcomers Lena and Darren put their very souls on the line…
Welcome to Sin du Jour—deviled eggs never tasted so wicked!
Here are the four reasons why you should pre-order it:
-It's the most inventive piece of urban fantasy I've read since Mur Lafferty's The Shambling Guide to New York. Like that book, it takes everything that works about urban fantasy and wraps it in characters who are actually people and events that mix the horrific with the wonderfully normal. Also like that book it's incredibly confident, assured and really, really funny.
-Matt is the master of the emotional livershot. There's a line in Envy of Angels that hits like a freight train. He puts every ounce of character and humanity and heart behind that single line and fires it straight through your heart, your feels, your sub-feels area. Whatever the internet's decided that bit where your emotions live is called this hour? Matt hits center mass every damn time.
-I'm a pretty decent cook these days. I wouldn't dare to call myself a chef, but I have a really solid understanding of the work and process that goes into making good food. Matt lays that process out in a way that's completely engrossing, dovetails perfectly with the fantasy elements of the series and will make you hungry both for a meal and for the next book.
-This is the future. This book and every other novella in this line embodies something that every publisher, big and small, pays lip service to and few ever bother with. This is a new approach to a new format with new voices and new attention paid to getting these books into as many hands as humanly possible.
You want to see this stupidly, relentless change averse genre and industry actually do something new without having to form a steering committee first? Then you want this book and the others in the range. And the sequels. Matt and the Tor team are holding the door open on this one. Let's go through it together.
Pre-order through Amazon US here
Pre-order through Amazon UK here
Here's the Barnes and Noble link
Here's Matt's twitter. Go say hi.