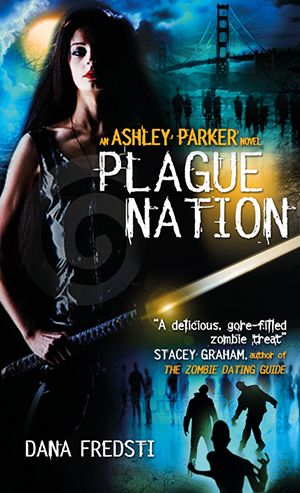 The world is ending. The world is always ending but these days it's getting faster. The deadly combination of a new strain of flu and the 'cure' for it are starting to tear at the outer edges of society. Redwood Grove, a small University town, was one of the first battlegrounds and where Ashley Parker discovered that she was a 'wild card', immune to the virus and gifted with enhanced strength and senses as a result. Now, after the Battle of Redwood Grove, Ashley and her team are leading the clearance operations in the area. Everything's calming down, except, out in the world, more and more flu cases are being reported…
Plague Nation is the sequel to Dana Fredsti's Plague Town. It's also one of those novels that accomplishes the near impossible and does something new with the zombie sub-genre. Ashley, Gabriel, Lil, Nathan and the others aren't survivors of a full blown apocalypse, or innocent victims as one sweeps across their world. Instead, they're hardened soldiers, people who've had to do too many hard things in a short space of time and are trying to work out if they're numb or simply accepting of what they do. This is a story set in a world on the brink, one which could be saved or damned and Ashley and her team are on the absolute sharp end. It's a fictional space very few other books I've encountered exist in and it gives Plague Nation an energy and urgency that not many books manage.
It's helped immensely by how light on its feet Fredsti's dialogue is. Ash is a relentlessly likeable heroine, a woman who is doing her best to hold together in an impossible situation and, to her rank amazement, succeeding. She's also massively irreverent, and in a truly endearing way, completely unabashed about that. Ash may like her swords, but what makes her truly dangerous is her brain, and Fredsti does a great job of balancing the basic luck an action character requires with moments of real thought. Crucially, she also pulls precisely no punches with any of the characters. Not all the people you meet coming into the book are still there going out and none of their exits are easy or clean.
This refusal to take the easy way out really comes into its own in the second half. After an attack on Redwood Grove, Gabriel, Ash and the team are sent into San Francisco to clear and set up at a new location. Things go wrong and they end up having to make their way through the city as the evacuation begins. The nightmarish slog up to the new laboratory sees them flash by, and brieflky encounter, other, smaller stories. Most of them they can't help but the hard fought victories that do come are all the sweeter because of how hard they've had to work. Fredsti also delights in torturing her characters, especially Lil. The polite, softly spoken young Wild Card is put through the wringer over and over this book and by the time she almost rebels to help rescue the animals at a local shelter, you're all set to go with her. Any victory, no matter what it costs, seems acceptable, any price worth paying and that's the point Fredsti's making; it isn't. In order to save everyone they must sacrifice someone. It's brutal mathematics and it drives everything Ash and the others are forced to do. They lose friends for stupid, completely realistic reasons, they try their utmost and they're still outnumbered and pressed to the limit. Even the on/off romance between Ash and Gabriel is complicated by the fact that Gabriel isn't a Wild Card. Instead, he's one of the miniscule percentage of the population that the virus changes a different way. Gabriel is alive, but the virus is active in his system meaning that, without constant doses of a tailored serum, he'll become a living flesh-eater. Jake, a character from the previous novel who shares the condition also pops up here and the horrific fate that's always waiting for Gabriel gives much of the second half of the book real urgency. Likewise, anyone who's lived in San Francisco is going to get a vicarious thrill out of the awful things Fredsti does to the city, especially the frantic evacuation scenes set in Golden Gate Park.
However, the second half of the book is also a little problematic. The mission to the new lab is motivated partly by the outbreak in San Francisco and partly by an attack on Redwood Grove which leaves Gabriel with a limited amount of serum. The ticking clock this gives the book isn't fully resolved in a way which is both extremely realistic and frustrating.  The team's plan is carried out and, like all plans it doesn't quite survive contact with the enemy. As the book closes, you get definitive answers for a lot of questions, but a couple of primary plots are not only not resolved but have extra seeds added to them for a third book. It's a gutsy choice, especially the material dealing with a conspiracy that may be behind it all and the introduction of not one but two major new characters, Griff and TJ. TJ, a parkour specialist, is especially good fun but some readers may still be frustrated by the dangling threads.
That aside, this is one of the best zombie novels I've read in a long time. Fredsti has a wickedly dark sense of humour, an eye for a particularly nasty action sequence and in Ash, Lil and Nathan especially, a knack for creating characters you care about and then doing unspeakable things to them.  The end of the world has rarely been this nasty, fast-talking, so well versed in zombie pop culture or fun to read about.
—
This article was posted as part of the Plague Nation blog tour, celebrating the release of Dana Fredsti's new novel. For the opportunity to win a copy of the book, simply tweet:
"I would like a copy of Plague Nation @TitanBooks @danafredsti #plaguenation".
Find out more about the book and the tour at: www.titanbooks.com/plaguenation